How to Deliver the Best Wedding Speech
As a fellow man I feel the pain of many Grooms, Father of the Brides and Best-men at my weddings. Everyone knows I love to talk a lot but a speech even scares me. I've devised this blog to help positively reinforce your speeches. Even after several years experience I am no expert in the field and should you believe there are more helpful tips out there then I'd love to hear them so drop me a message here.
Believe in Yourself
During my formative years attending many a horrible English class at my Church of England High School I gained a complex over my ability to write. My results echoed my fears and although I could apply myself to most subjects, English was one I really struggled to grasp.
After leaving high school the only english education I had was from the reports wrote in conjunction with my college and university work. I also wrote a journal in my spare time which was just full of post teenage angst and never meant to be read my anyone else. It's deleted now so I'm sorry you can't laugh at younger me.
It wasn't until I came to write a pile of new content for my website in early 2017 where I realised writing was more of an art form than a regimented formula. I wrote a lot of content and then had a proof reader review it just knowing there would be a pile of corrections which I'd need to see to. To my surprise the proof reader came back with just a handful of corrections. Upon my disillusion I asked him if he was sure as I was pretty sure I was terrible at writing. He described how I'd managed to blend professionalism with transparency and managed to get my own person flourish to resonate throughout it all. Check me out!
Since these words I've gained a vast love for writing restarting my journal as a more story telling type of feature. I hope to share this publicly one day. I could never have imagined a world where I'd love to write as much as I do now but it's happened and I'm relishing the chance to write my story.
So in short there are guidelines to great writing but it would appear the real strength comes from what you put into it from your personal repertoire.
Those Who Fail to Prepare Prepare to Fail
It's a very rare case where a person would be able to write a speech within 24 hours which would be delivered with thought, conviction and personalism. Don't be a fool, if you're writing your speech within 24 hours of your wedding or even a couple of days of your date then I possibly wouldn't bother. Still stand up and thank everyone for coming etc but don't try to deliver anything more.
Let's not get to this situation though! You can give this some time I know you can. First off decide how you want to be perceived through your words. Do you want it to come across comedic, genuine, personal or in another way? Stick to your natural abilities. If you're not naturally funny then I think you'll really struggle to deliver a side splitting speech thus giving yourself an up hill battle from the very start of your task.
Once you have decided on your delivery method you'll want to work on the over hanging message. Do you want it to culminate in a focus on one person or maybe a quote from your time together? Next you'll need to focus on the content which you want to convey. Who do you want to thank? What moment in time do you want to reference? Who do you want to toast? Start to scribble some content down in your spare time. A lot of my ideas and small writings which go on to form bigger parts come at random points within the day. It's hard to write emotionally when I feel neutral or balanced. You'll be surprised how well you can convey your mind at the time of the feeling or at a relatable point further down the road. Due to the way I write I jot everything down in the Notes application on my iPhone. Due to my fan boy mentality in regards to Apple's products I am then able to continue writing at a later date on my computer or iPad.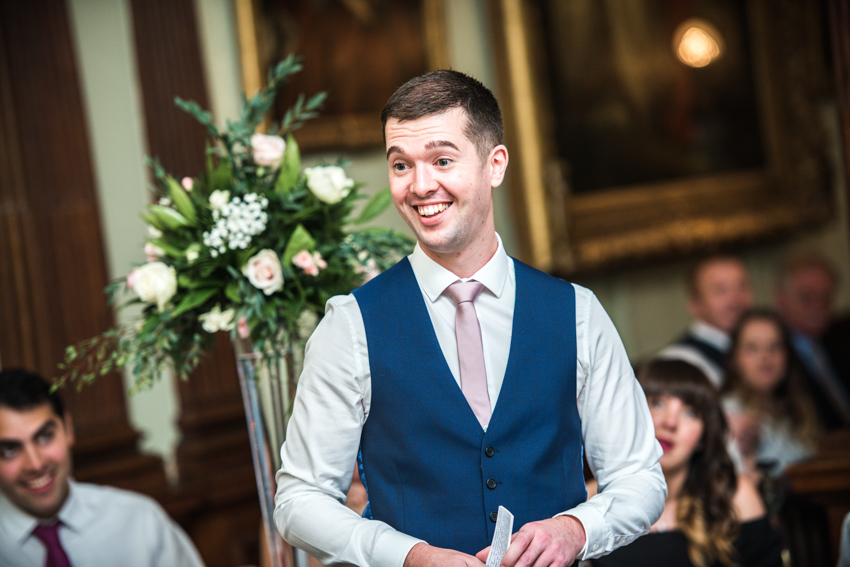 The Opening is Key
The opening to a speech is super important, if you're the best man or maybe even the father of the bride it's quite possible some people won't know who you are. They won't be your number 1 fan and to many the jury will still be out on their judgement of you as a person. This is your time to prove how awesome you are.
I always talk about how important the preparation photographs are on a wedding day. This isn't because I believe photographs of you before you're dressed are important, no not at all. I believe this time together with me before the day kicks off is super important. It gets you comfortable in front of the camera and helps you relax. I want everyone in the room where the preparation is taking place to become my cheerleaders for the rest of the day. If I win over the people within these moments then word will spread to their partners and their friends. Everyone is then more relaxed within an instant. It's phycological wedding warfare at it's finest.
Getting back on point now. The opening of a speech is like the preparation photographs for me. This is your chance to convey your beautiful individual personality all in one flying swoop. Don't hold back, lay yourself bare straight away. There's nothing worse than a speech which starts with nervous mumbles. Shout at the top of your voice if you need to. Make yourself uncomfortable straight from the word go. After getting yourself out there straight away you won't fail to deliver the rest of your speech in a non fumbling manner.
Use your Strengths
Each and every one of us has personal strengths. We may love football, photography, beer, walking, etc. Whatever it is use it to help you build a speech. I've heard a fantastic speech where a museum curator come best man talked about how he saw the groom and related it to his work. I've also seen a maid of honour who was a University Graduate give a speech where she used the context of writing a report to describe the bride. Both of these examples were naturally funny and really brought the individuals personality to the forefront.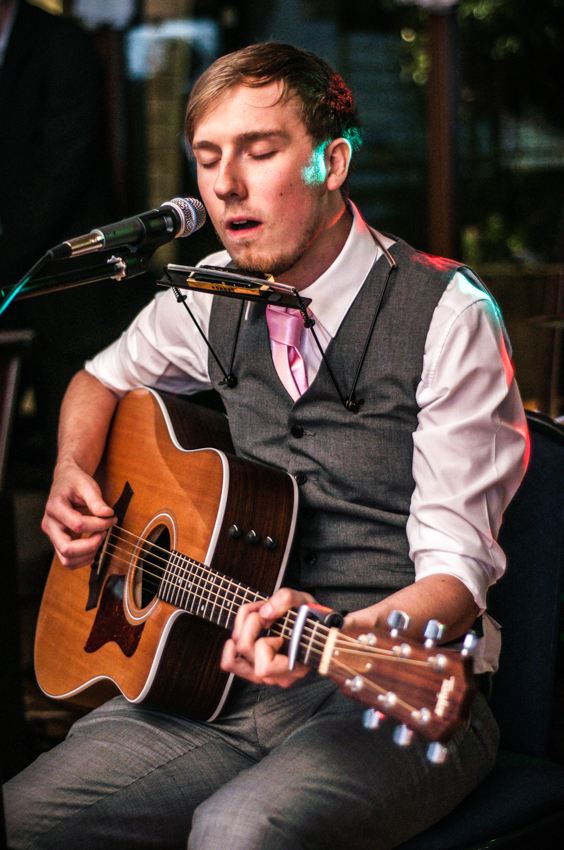 Preview your Speech
This is probably the most important part of the process. If you're like me then you'll often look for guidance or clarification from family and friends. Your wedding speech shouldn't be any different. Although you may want it to be fresh to all intended audiences it's often great to preview it to a select few attendees of the wedding beforehand.

There is a phycological process by which if you want to convince a room full of people of something then you should brief one or two of the most vocal people in the room first. Doing this enables them to get any misjudgment out of the way first and allows you to explain what you're trying to convey. Sometimes they can provide helpful insight and maybe change your message for the better. I only know this because in a previous work life I was one of those people. Briefing someone beforehand makes them feel special and be fully brought into the situation. So then, getting back to the wedding day scenario, you now have a selection of cheerleaders in the crowd who're just waiting to laugh at the next punch line which they know is coming.

If you want it to be a water tight secret from all guests then I still strongly suggest you share it with people who will not be attending the wedding or film yourself delivering it so you can judge yourself from another perspective.

You're now ready to face the big wide world! Go for it. Knock 'em dead. You can do it. Best of Luck.