"Capture our day & give us memories which will last forever"
Adam… you lived up to our vision!
I used to work with Adam in his previous career and have loved watching his dreams unfold from the beginning to him now being such a huge part of our special day.
As soon as we decided we were getting married & started planning our day, we knew Adam was our first choice. It really mattered to us that our photographer was someone who we could relate to & someone who would capture all the moments without taking control of our day.
Adam was incredible. From the meetings to the day everything was what we wanted. Adam joined my bridal party getting ready & I knew from the off he would get on with everyone great! Our mums loved him! My bridesmaids felt so relaxed around him. My make up artist loved how he captured her at work. Adam played a large part in keeping my wedding morning so relaxed. He made us laugh & kept checking all the details were perfect. The relaxed atmosphere wouldn't of been the same without you.
Our groomsmen loved how he let them be themselves & capture the moments… those these lads can be hard work.
Adam went above & beyond & the photographs which he caught in the moment are extra special with all the emotions really shining through. The smiles, the tears, those special looks all within a photograph.
All our guests literally loved Adam and couldn't praise him enough as he was so fab with the children & the way in which he asked everyone to get to together for the staple formal shots. He was laughing & joking with our wedding party helping to keep everyone relaxed. We had so many compliments about Adam. A hero to our guest & us!
I asked Adam to make sure we had some time alone just me & my husband to take it all in. After our wedding breakfast he whisked us away to have some quality time & capture those newly wed moments on camera. I can't thank Adam enough for everything he did for our day!
The best decision I made was choosing you to be our wedding photographer. Less than 24 hours after our wedding we were sent our sneak peek photographs… amazing! Happy tears from us both on route to our mini moon.
Two weeks later we then received a wedding slide show which was a total surprise & had us & our family in tears. The detail and effort Adam gives to all his work is just something else!
Our wedding photographs are everything we wished for & we can't thank Adam enough!
Continue to follow your dreams.. thank you for being you!
Love Jessica & Liam
Adam, from our first conversation your excitement and enthusiasm spilled over and I started to really feel that the wedding was actually real. Our first meeting at crewe hall was one of our highlights of wedding planning. You were so good at covering everything from beginning to end, by chatting through the day as a whole with you we both started to feel really relaxed and confident in our descions and the day we'd planned. It was just so EXCITING! We went exploring all the Christmas trees at crewe hall and the three of us like giggling schoolkids amazed at how beautiful our venue was in all its Christmas glamour!
Your face lit up with talk of long dining tables and brownie mountains, which made me feel so happy that someone was as enthused as I was! Most importantly though you put us first and gave fantastic advice for a successful smooth day and it worked!
The day itself, you looked so dapper in your outfit, cheerful and a delight to have around for the wedding preparations. Beware ladies he will run off with your dress at some point but the picture was worth it! For the rest of the day you didn't stop working ridiculously hard and we are so grateful.
At every point you were there, smiling and just being bloody lovely. Both Lee and I were so grateful for all you did. All our guests loved you and the pictures show it. We had a laugh a minute and it honestly felt you were more like one of our treasured guests than a photographer.  There were so many memories that day but you were a part of most of them – our favourite involving our rogue car driver getting involved with the wedding pics, you lying on the road in 2° weather for the perfect driveway shot and being unbelievably patient during the sparklers fiasco!
I recommend you to everyone I know. I can't imagine there being a more talented dedicated photographer in the land and can't thank you enough.
Thanks a million.
After meeting Adam for the first time it's clear how passionate he is about his photography, not only was that the reason we chose Adam but we sat and spoke for hours and he made us feel so comfortable and that's so important as not many people, especially myself like having the picture taken so it's great when you meet someone and feel relaxed.
Adam kept in contact, gave us ideas and also helped with some venue recomandations when we needed to change our venue.
He made sure he found out exactly what we wanted from our pictures, what was important to us and what time everything was happening throughout the day, we hadn't booked a full day photography so we had a lot to get in in less time
I had married officially in Jamaica and it was very laid back, so when it got to my wedding blessing here it felt a lot more stressful, As soon as my car pulled up to the church Adam was waiting outside for me gave me his grin and a wave and I felt more relaxed.
Adam made sure my dress and veil was set out right for our pictures and he was also great with all of our guests, most people who came to our wedding either commented on how great adam was on the day or how amazing he was at his job, he fit right in with everyone.
We loved getting our previews following our day and we're even more excited to receive the rest.
Thanks Adam!!!
When planning our wedding, one of the top things on our list was a photographer. I love photographs and the memories that come with them. We heard about Adam through recommendations from lots of friends and a few years earlier Adam was the photographer at my friend's wedding when I was a bridesmaid. I loved his work and he made the whole process so fun.
So when it came to choosing our photographer Adam was always one of our top choices. Sam was worried about having someone follow us and taking awkward pictures of us, but when we had our initial meeting with Adam he soon changed his mind. He made us feel confident, he is so friendly and professional we ended up booking Adam on the spot that day.
In the build up to the wedding Adam was amazing. He met us the week before to go through photograph opportunities and had it all planned out for us, making the day run so smoothly. He listened to what was important to us and made sure that those things happened.
Adam went above and beyond for us on our wedding day and the results are amazing. We have so many precious memories to share. On the day it felt like Adam was part of the family and everyone loved him and loved his work.
His follow up was so quick the next morning we had 10 beautiful preview photos which we love. Then when the rest of our photos arrived I was so excited and they were better than I could have imagined. We would recommend Adam to anyone who is after a photographer for any occasion.
When we first started planning our wedding we had decided we didn't want a photographer as Alix has anxiety and struggles with meeting new people. Adam was recommended by our venue and after having a look through his Facebook page and website we had changed our minds and sent Adam a message. We were over the moon when he told us he was available.
We FaceTime'd Adam and discussed the type of photos we wanted and we were not disappointed! When our wedding day finally arrived and Adam came to take preparation photos, we told him about the Alix's anxiety but Adam was so relaxed and friendly, it felt more like a friend taking your photograph. We couldn't have wished for a better outcome. We asked for a lot of candid shots and when we got our digital gallery we were nearly in tears laughing at some of them. Adam captured some very special moments and some, if weren't for the photographs, we wouldn't have even known had happened.
Not only did Adam take amazing photographs he also saved the day multiple times (literally). While the girl's were having hair and make up done, there was a very bored 7 year old who would have been running riot if it wasn't for Adam keeping him involved and entertained.  He managed to fix the bride's dress before leaving, then helped put button holes on for the children who wouldn't stay still for anybody else! Just when we thought he couldn't get any better, it turns out Adam is brilliant at fitting a veil!
Adam fit right into the wedding and we forgot he was there at some points because he just let the day run and captured it in the most special of ways. We can't thank or recommend Adam enough!
We just wanted to say thank you for everything you did on the day it wouldn't of ran as smooth as it did with out you and your eye for a great shot. You were fantastic with 150+ people, but still managed to make the bride and groom feel so special.
You were there early and stayed over not minding at all. You only thought about the best photos for us! You even lay on the grass on a damp day to get some great shots! The end product was simply stunning as it shows in our photos/wedding books.
We are really pleased with your work and wanted to say thank you for a fantastic job. We WILL recommend you on every wedding that is coming up!
We were over the moon when Adam said he was available to be our Wedding Photographer. My sister and brother in law got married a few years prior and he was the photographer at their wedding. They couldn't speak highly enough of Adam, both with regards to the quality of photos he helped create but also what a great guy he is.
We arranged the first meeting at our house and the first thing that struck us about Adam when he arrived was how enthusiastic he was, once we got talking it was really clear that photography isn't just a job for him. He's super passionate about making sure the photos he takes are all about capturing your big day the way you want too. We wanted a mix of photos made up of some traditional group photos, but mainly natural shots to really help capture everyone's happiness throughout the day. Adam even helped us come up with a couple of ideas for some unique and personal photos. Within about 10 minutes of our first meeting we had already decided that we really wanted Adam to be our wedding photographer.
On the day Adam made everything so easy, he made sure that he had all the information he needed to know about the arrangements so that he could plan the day ahead. We had a lot of family group photos which always presents a challenge getting everyone together but not only did he do it, but he did so in a fun and light hearted way. Testament to  Adams great personality we had lots of our guests comment after the wedding that they thought we had known Adam on a personal level because of how relaxed and comfortable he made us feel. By the end of the day Adam had become part of our Wedding party not just a photographer.
Having seen the first 10 sample pictures the following day we were blown away by the quality and how amazing they looked, we then couldn't wait to see the rest. Needless to say the wedding albums that Adam created for us were incredible and we've had so many comments from friends and family about how good the photos are.
We can't thank Adam enough for the outstanding photos he captured of our special day and would without a doubt highly recommend him.
Thanks again from the Richardson's
After having had a bad experience with a formal photographer our biggest apprehension over everything we had to plan for the wedding was the photographer. All the details of the wedding we were completely in control of, but choosing a photographer who you could trust to take the pictures in the style which you wanted was the most difficult decision.
If you are a couple similar to us whose nightmare is standing behind a camera for hours with this false smile that starts to hurt your cheeks, whilst relatives are rounded up for stiff shots, then Adam is your wedding photographer. Meeting Adam several times prior to the wedding meant that there was no awkwardness to him arriving on the day. In fact by the end of the wedding day because the time spent with him was so relaxed and enjoyable he'd became another member of the wedding party! Importantly making us laugh when he could tell either of us were getting the usual wedding jitters adding to the modern nature of his photography.
All the fine details had been discussed in the meetings before meaning on the day Adam just got on with everything we'd asked him to capture and more, relieving a massive stress off our shoulders! As a bride your photographer saying 'let me worry about the weather and the timings you just enjoy yourself' is exactly what you need to hear.
We not only spent the time following the wedding boasting how fabulous our photographer was because of his funny and easy going personality, so did both our families and friends.
One of our favourite photographs of the day was Adams impromptu photograph of us sitting on the floor; looks like a perfectly posed picture in front of the landscape when in fact it was just a rest from the uncomfortable shoes.
Our wedding day was literally the best day of our lives and every precious, funny and unique moment of that was captured without us even noticing Adam was here.
Thank you, Mr and Mrs Rhead.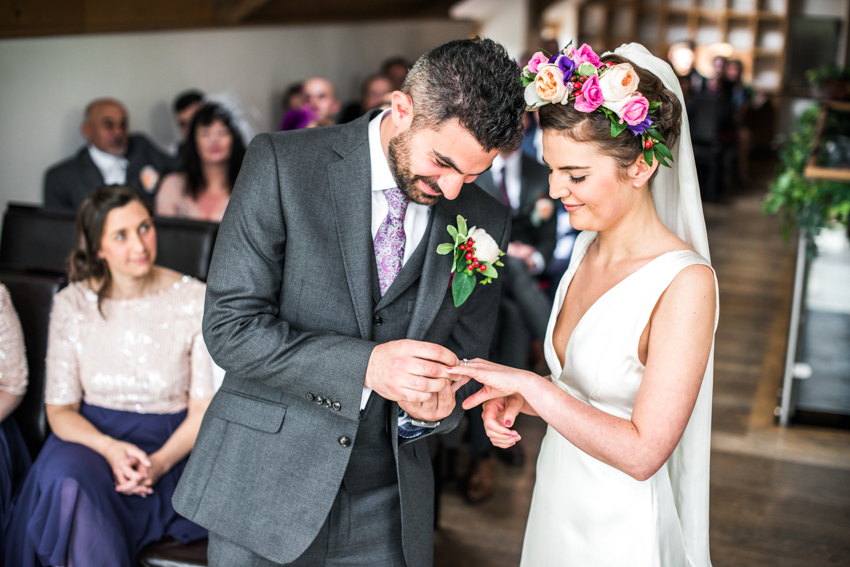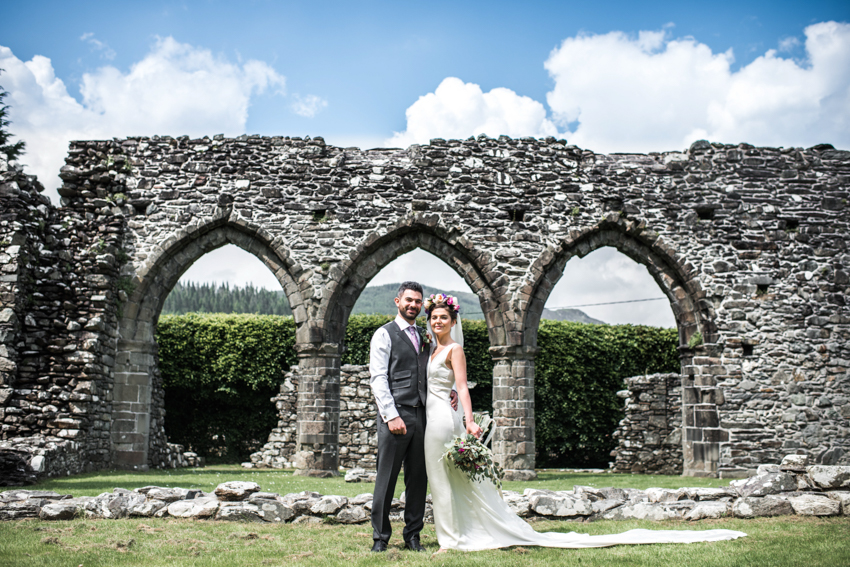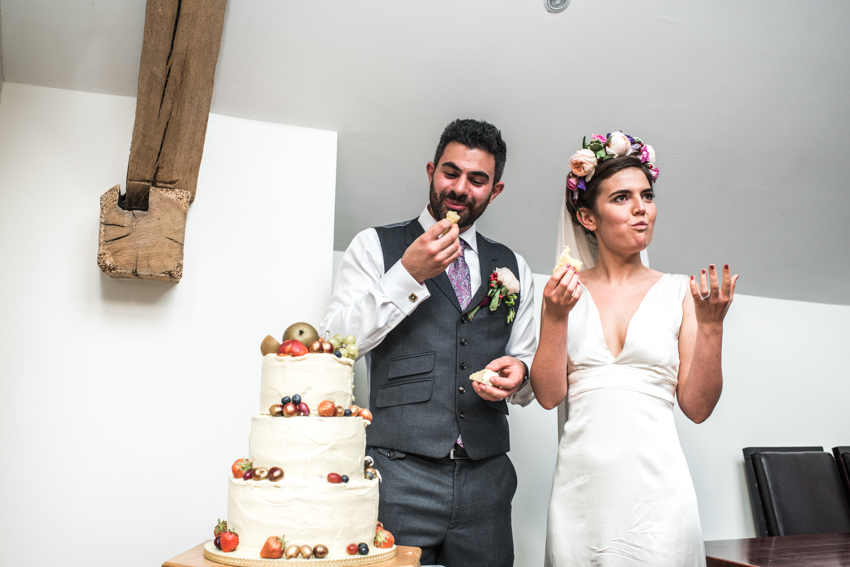 We have known Adam on a personal level for a number of years, and when it came to choosing a photographer for our own wedding, there was simply no discussion to be had; it was always going to be Adam. We had seen so much of his work, not to mention his passion, professionalism, and attention to detail. He takes so much pride in what he does and will go above and beyond to get the best results. That was so clear when he photographed our wedding.
We were married in Wales, overlooked by Cadair Idris and surrounded by rolling hills and fields. Adam spent the morning of the wedding with Emily while she got ready, and not only took some fantastic photographs, but was also a real calming influence when things around her got chaotic!
During the ceremony, Adam was in the background, but clearly working hard to capture as much as possible. He then surpassed even our expectations when, following the ceremony, he had researched our preferred backdrops down to the finest detail, from the most suitable route, to the timings, ensuring that the photographs fit effortlessly and naturally with the time-table for the day.
When we returned, Adam directed the guests for group photographs, making sure that all of our friends and family were included. During the reception, Adam was again working away in the background, and really captured some great photographs.
The results were all that we had hoped for and much, much more. We had spoken to Adam prior to the wedding about what we wanted, and the photographs were just that; natural, and captured the day just as it was. The thing we were most impressed with was how Adam took a load off our shoulders, and had everything organised just how we wanted. During the run up to the wedding there were an unfathomable amount of things to consider and sort out; however, Adam's quiet, calm, organisational skills meant that the photography was one less thing to worry about, and we could relax and enjoy the day knowing that it was all in his extremely capable hands. Following the wedding, Adam quickly provided us with a sneak-peek of a selection of the final product, and we were over the moon.
Following that, we were provided with a DVD containing all of the many wonderful photographs that he had taken of our day, along with a large, printed photograph album with a selection of our favourite ones. That definitely takes up a special place on our bookshelf. We would recommend Adam to friends, family …anybody! He is hard working, conscientious, and really passionate about what he does, and this really shines through in his photography. We have also seen first hand just how flexible he is to his client's needs, striving to produce the photographs that they want, rather than anything 'stock' or 'standard' looking, which, for us, was definitely the most important thing.
Adam came highly recommended by a number of friends. From our first meeting with him we knew that he had the passion, creativity and skill to capture our wedding day. We shared ideas and amazingly he didn't laugh at us when we talked about photos of shoes and giant balloons.
When our wedding day came we felt completely relaxed with Adam and this was a big thing for us as we are two people who feared having their photo taken. One of our favourite memories from our wedding day was escaping for a couple minutes to have some photos taken in a nearby park. Not only did Adam buy us ice cream but he also carried my shoes as we dashed back to the reception to take cover from the rain. When the sun had set we went back outside and Adam suggested taking a photo with an umbrella, it turned out to be one of our favourite photos from the wedding.
We loved having you as our photographer!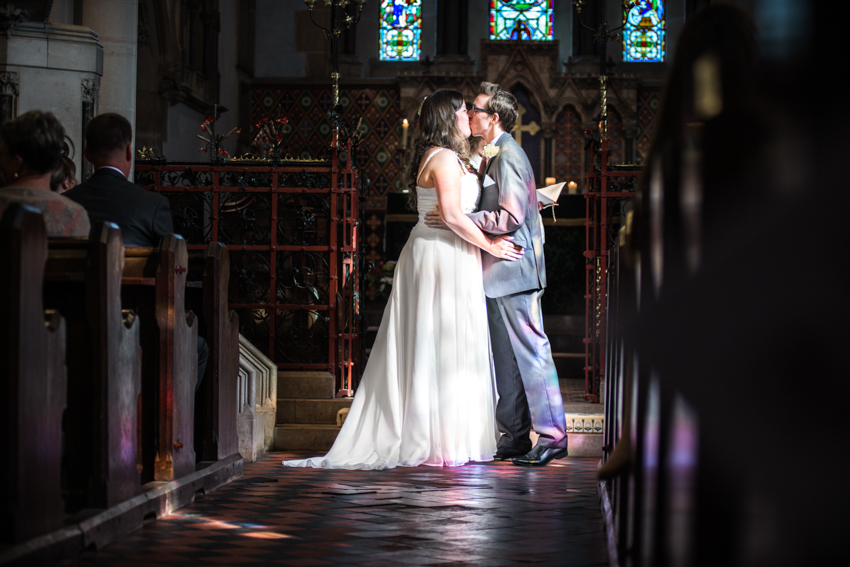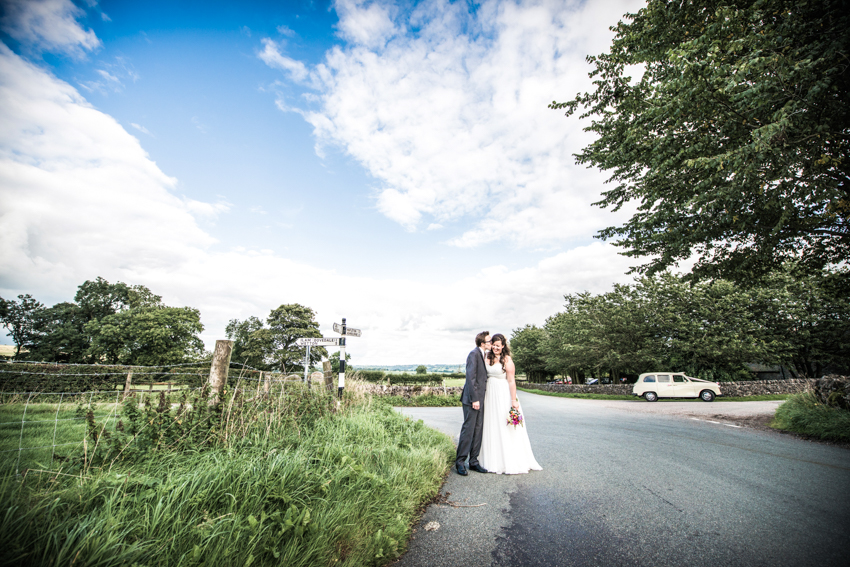 When we were looking for wedding photographers, Adam was one of a shortlist that we had created. We were impressed by the collection of images on his Facebook page and his professionalism at friend's weddings that we had seen him at before. When we had our first consultation with Adam, he provided us with all the options and examples of what they would look like as a finished article. He thoroughly talked through price options and what was the best value for us, and what we would get for each price option. We decided to book him based on everything we had seen and his open, friendly, and professional yet not business-driven demeanour.
On the day the least of our worries was the photographs. Adam was on time and had made a note of times so that he knew how long he had to spend at each house for set up photos before making his way to the venue for the ceremony, and was fantastic at gathering together the people he needed for each shot. He remembered that we wanted natural shots more than staged apart from a few specifics, and all our guests commented that they didn't feel forced by him to be in photos, but he still got all the ones we wanted. He took some great photos but some that stand out are the group shot of all our guests and some brilliant ones of just the two of us with the surrounding countryside in the background used perfectly as a backdrop. If you're thinking of booking Adam we would highly recommend him. He's intuitive, reliable and carries out his role with aplomb. We were 110% satisfied.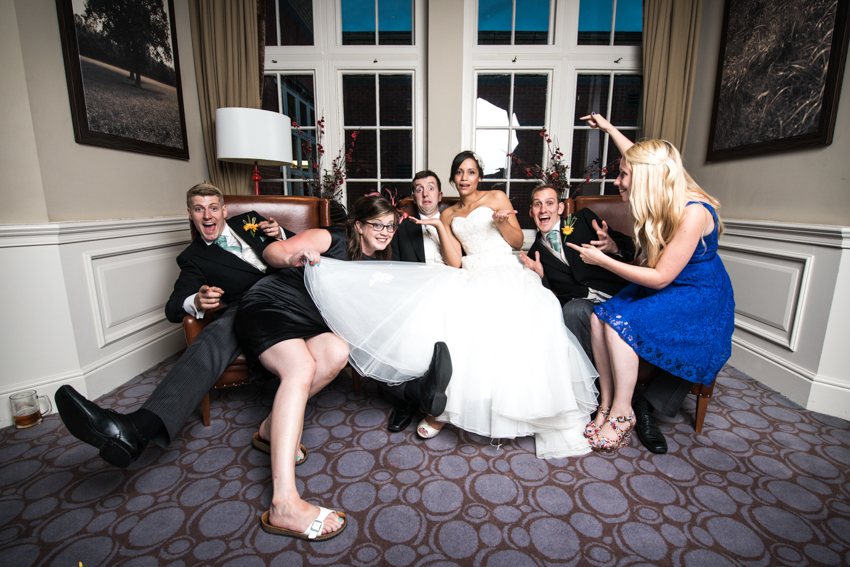 We are both incredible creative people and wanted someone who was easy going and yet super creative, we looked no further than Adam. From the first meeting, to the actual wedding day, Adam made things fun, easy and enjoyable (a key part of our big day).
On the day we were blown away by how great Adam was, he was around with his camera but he was more like a friend who had a camera and this made the photos even more special. It came to our attention after the wedding that Adam had car troubles in the day but he never let us know and was at reception in great time. He never passed the stress onto us, which we were grateful for. The photos Adam shot are exactly what we asked for and he did us some great group shots allowing our friends to take away special memories too. We have recommended Adam to many of ours friends and family. We cannot wait to see his business grow into the success that we experienced. Adam made our best of our lives just that little bit better.
When it came to choosing our wedding photographer, we were very selective, we wanted some quirky and also some natural photos yet we did not want to feel like we were on a photoshoot all day. I knew Adam from years previous and had seen his photography via his Facebook page and I was very impressed, I showed my other half and he agreed that this was the style we both wanted for our photographs, it was then that I contacted Adam to arrange our meeting.
Adam made us feel at ease straight away as neither myself or partner feel particularly photogenic, he listened to our ideas (which sometimes it can be hard to find someone who does listen to what you want) and what vision we had and then talked us through endless possibilities. I so looked forward to seeing these ideas come to life through Adam's lens and creative flare.
On the day of our wedding Adam went about himself, snapping away, organising shots etc I didn't notice him there half of the time (which is great considering his height, do not let this put you off booking) and that made me feel constantly at ease and allowed me to enjoy getting ready without thinking… oh no smile! 3..2..1.. pose! He captured our special day spectacularly and we could not thank him enough.
I have to say I have quite a few favourite shots from our day but Pete and myself both agree that our favourite shot is one taken on the drive of the venue, when it had gone dark and Adam creatively used the lit lamppost to light up the shot, it is beautiful and timeless. I also love one that was taken in the moment before I left for venue with my Shar-pei H, I will forever hold that image close to my heart. Pete also loves that we managed to integrate his motorbike into some of our pictures as it is a joint love for both of us.
If you want an honest, creative, unique photographer then please do not hesitate in contacting Adam Lowndes. He brought our visions to life and more and has managed to capture amazing images that are timeless and memories that will last forever.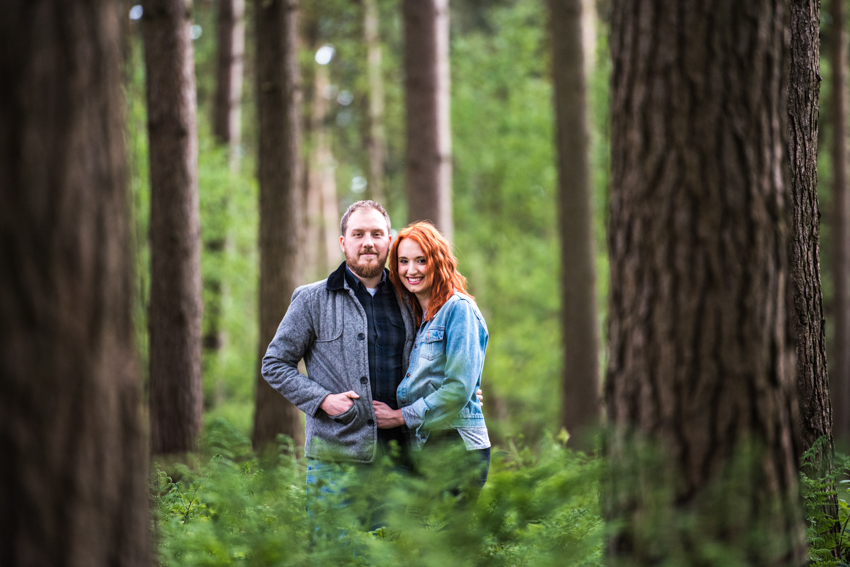 When we were planning our wedding in 2010, we were also trying to buy a house at the same time. Adam, my brother, had recently started to develop his photography business and we were a bit skint. The logical conclusion was to ask him to do our wedding photography. Oh, and we always thought his photos were amazing, so it was win-win for us! We weren't after traditional formal posed photographs and our wedding was definitely of the 'home made' variety. Adam recruited a few photographer friends for the day and we could not be happier with the results. Considering it was early on in his photography ventures, what he managed to capture was incredible. And I'm still please to see he uses photos from the day as part of his promotional material. It has been so great to see him develop over the years and his photos never fail to stun us. But what I have loved watching most of all, is how he has developed his abilities to relate to clients and put them at ease. He really is a 'people-person'. He recently did a 'couples shoot' for us. I think we put him through his paces as we are quite awkward to photograph in general but he did really well at taking some wonderful natural photos of us and, more importantly for us, captured the scenery around us beautifully.
So you may think we are biased, but I get a bit of a 'behind the scenes' glimpse into a lot of the things he does, and I am 100% certain he will not fail to impress you.