Wedding Photography Planning Guide
All the Answers to Questions you never had
Many times my couples reach out to me and ask me a certain question about a part of their day. I love sharing these little golden nuggets of wedding knowledge with them but only ever tend to release them when asked.
To eliminate this I thought I'd create a whole page full of info which will help alleviate stress and plan your wedding.
I hope you get loads from it;
Adam.
The Morning
The Usual
One Side of the Story
Although it may not seem it, the morning of your wedding is as important as any other part of the day. As well as preparing for the day it's a nice ease into the rest of the day for photography. It's the first moment of your day where you'll have your photograph taken and it gives you a chance to get used to this feeling.
With most weddings, unless otherwise agreed, I'll arrive where ever you may be 2 hours pre-service giving me a nice hour of time with you. I do this as I'm sure you don't want photographs of yourself climbing out of bed or eating your breakfast. Arriving so close to the ceremony ensures all the panic of the morning is out of the way and you're just on the joyous final bits of your make up, hair and getting dressed.
I'll aim to leave once you're in your dress and everyone has seen you. This is usually an hour before your wedding but obviously could be slightly early but more likely later due to the fast paced-ness and much to do of the morning routines. Once I leave you'll be able to do the final checks making sure you've got everything and you're then ready to get married.
Tip: Introducing me as just "Adam" all day helps your guests see me as one of them whereas "The Photographer" sounds a little formal and puts a subconscious divide in place.
The Other Side of the Story
If your wedding is one of a Bride and a Groom then I'll aim to meet the Groom and his Groomsmen at the venue or church around 45minutes to 1 hour before the service starts. We'll then do the Groomsmen portraits whilst no one else is there then I'll just go straight into candid mode with all of your guests arriving.
Arriving this early is great as it gives me the chance to see the light on the day and how I will photograph your service.
If you wanted the Groom's morning side of the story capturing and they're split far apart then we may have to explore the extra expense of a second shooter option for you.
Same Location for the Wedding Morning
If you happen to be getting ready within minutes walking distance of each other, maybe in the same hotel or set of holiday cottages then I'd love to capture both parts of your story.
I'll simply bounce between the both of you seamlessly capturing all the important moments.
A Same-Sex Wedding Morning
I shoot a lot of same sex weddings and rightly so they're becoming more of a core to my work as couples of all genders and orientations are able to celebrate their love in pretty much the same way.
Some same-sex couples in the past have gotten ready together during the morning then when it comes to dressing they separate and rejoin at the end of the aisle. This is always great as you get lovely photographs together in the morning and still maintain the excitement for the big moment during the service.
My #1 Morning Tip
Where ever you choose to get ready try and position yourself and your tribe facing windows so I'm able to use the abundance of natural light which will shine through.
The Ceremony
Where ever you're choosing to do the legal bit of your day embrace it and make it special. It doesn't just have to be the bit you want to get over and done. It can be so much more.
Walking Down the Aisle
Whatever sort of precession you're having be sure to think about spacing. I'll be at the front slightly to one side trying to capture each person making their entrance. This can be incredibly hard when people are too close to each other and almost physically impossible when there are small children involved.
Sending your friends down the aisle in height order is always great as if people do linger too close together then there is more chance of me grabbing a shot of them if the person in front is shorter.
Tip: Remember it's not a race, take your time and take it all in.
Readings
If you're having a civil ceremony then you've probably not even thought of readings as they remind you of a religious service but I implore you to consider them.
There are loads of alternative readings out there which you could have one of your closest friends read during the service. I always find my couples are so much more responsive when they're looking at a friend rather than a registrar.
Tip: Why not have the one friend who only slightly missed the bridesmaid/groomsmen cut read a story from your favourite children's book?
The more which happens on your wedding day will in-turn produce much more I can photograph.
Church Service
It's really important, if you're getting married in a church, you speak with the celebrant beforehand about photography and if they have any restrictions. I'm happy for you to pass on my contact details for them to speak with me directly if this makes it easier for you two.
My preferred position is to be facing the two of you. This usually means I'm sat in a choir seat. If the restrictions which the celebrant imposes stop me from going here then there's nothing to fear. You'll still have great photographs and it'll cause me to be a little more inventive with my approach.
Tip: It's always great to know the layout of the church in advance so when you head over for your rehearsal why not do a little video and ping it over to me?
Unplug Your Wedding
For me, the service is the part of the day where I just want everyone's eyes to be on you. I'll usually be photographing from behind the registrar or celebrant so your family and friends will make up the backdrop to every photograph.
No one in my experience can remain fully engrossed in this amazing moment whilst also trying to take a photograph. For me their is no worse moment than to have a beautiful moment unfolding before me and everyone but one person behind being engaged. They're instead looking down trying to operate technology to capture the moment.
All of the final photographs you get will be accessible to everyone so let your guests know they don't need to cover me, I've got this and am more than capable.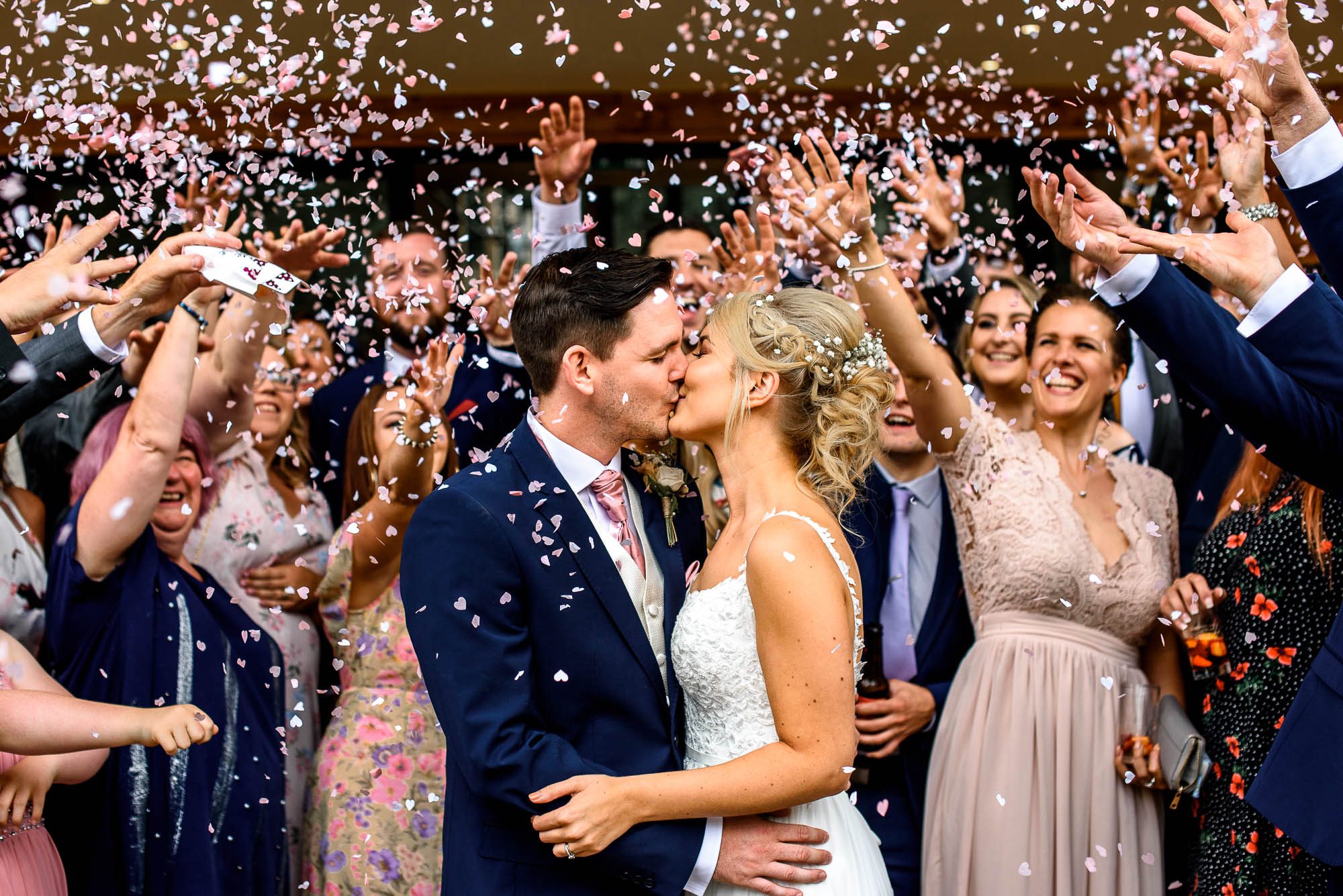 Confetti
Do we need it?
Couples asking me questions around confetti on their wedding day is my most asked of them all. First of all you don't need anything but yourselves to make your big day incredible. Please remember this.
If you take the opposite approach to including everything and start cutting activities out then awesome whatever floats your boat just be aware if there are no theatrics at all then it may just turn into a very bare bones atmosphere. People need action to give them reaction and if there is nothing which strikes their interest then they'll just enjoy a drink and chat which is lovely but limited in terms of creativity from a photography perspective.
What Should We Buy?
Your venue will most likely have rules regarding confetti so I'd reach out to them regarding it. If they allow it they'll usually specify natural petal confetti which I also strongly suggest.
One of my favourite suppliers is Shropshire Petals and there pick and mix service allows you to really embrace your colour scheme with the confetti your guests throw.
If you want confetti cones then go for it. The look of confetti flying out of peoples hands though is second to none in my opinion.
Tip: A couple of Confetti Cannons can really enhance the look of the photograph and do a great job of distributing the little stuff everywhere.
How much should we buy?
If you work this out based upon each guest having a chunky handful each then you'll get a stunning photograph. In my experience, the more, the better and with small amounts of confetti you'll probably miss the impact of it.
When do our guests throw it?
Some venues allow guests to throw it as the couple walks down the aisle. I do love this especially if tight for time as it combines two things with one. Be aware though not all of your guests will be able to target you from the seats not directly next to the aisle.
The usual time to throw confetti normally occurs following the service. As you come out I'll let you have a little moment with your guests to celebrate the awesome-ness of what just happened. After this calms I'll then construct a quick line or half circle and confetti away!
Just like with everything on your day, do not worry, I've got it all in hand.
Group & Family Photographs
Yes, those photographs.
Often judged as the most stressful time of a wedding day, the group/family photographs should be anything but that.
I don't want you to feel any amount of stress on your wedding day and this is why I handle these photographs completely. I often get through them with speed but whilst also making sure they look fantastic.
Do we need to write a list?
The short answer is No. Back in the day I used to have my couples compile a list and then have a bridesmaid or groomsmen handle the fetching of each person. Although sometimes working well it more so was a fiasco and the situation just needed someone to take charge which is why I came up with my way of doing things.
Following the service when the atmosphere is at it's peak I like to keep the photographs natural and candid. Once this all settles down I'l sense the change in the air and start to arrange the group/family photographs.
Taking the big group shot first I'm then able to let all of your friends go and get a drink. Left with just your families I'll take one side and start their photographs. Working from the full amount and then detracting people from the group enables me to keep everyone there and work through a pile of photographs within minutes. I'll work all the way back to just you and your parents before moving on to the next side and completing the same thing for them.
Done and Dusted. No fuss just beautiful photographs of you and your family.
Couples Photographs
Probably the most negatively anticipated part of the day where people wonder how I'm going to make them look some sort of normal when they feel anything but. Don't worry these nerves are natural and if anything only add to the photographs as you laugh and joke your way through the whole process.
Do we have to pose?
HELL NO! Most of my couples photographs are just far too simplistic to understand. They usually involve me saying something simplistic like "stand there and hug/hold hands/face each other". Then from something so simple we build the photograph to what it's going to be.
I'll be talking from behind the camera most of the day. It's a coping mechanism part of my personality which allows me to feel comfortable. It also makes my couples feel more comfortable, laugh more, smile more and just be their genuine selves.
Stunning Portraits in Minutes, Not Hours
In an effort not to remove you from your own wedding I'll never take you away for hours meaning your guests wonder where the heck you are. I prefer 15 minutes here and 15 minutes there through out the day.
Usually I'll take the first set whilst everyone is preoccupied sitting for their food. Then the next after the speeches and if it's Summer I'll squeeze in another in the evening. Each of these taken in minutes not hours whilst taking full advantage of the weather we have.
Wedding Breakfast
The Food
If you're like me and most other people on this planet then you'd rather not have a photograph of yourself chomping down on a piece of broccoli as let's face it, it's not very attractive is it?
For this reason I take no photographs during the wedding breakfast and use this time to take a break away from the camera where I often put my feet up and look back at what an awesome day it's been so far and establish a plan for the post meal moment.
I ask one thing of you on your wedding day. Can you feed me a hot meal? It's an absolute game changer for me. I get to sit and enjoy a lovely meal usually nearby to you and your guests so if I'm needed in a moments notice I can be up and at it asap. It doesn't need to be the 15 course £££ a head option you may be feeding to the rest of your guests but something substantial you feel someone who's been on their feet all day may enjoy. Just incase you wanted to know I am actually one of those awkward vegetarians also if it wasn't hard enough already!
The Speeches
Being a massive extravert and having spoken in front of 100s of people I do struggle to understand the trials and tribulations of public speaking.
For me though it's entirely your decision and just because tradition says so I don't believe you should be made to do anything which is going to make you feel most uncomfortable.
What I would suggest though is to get creative with the layout of your speeches. Add some in take some out and make it a bit exciting and not the usual wedding lark.
Tip: If you can I would try and piece together at least 10 minutes per person. This way I can photograph the main party's reactions before then having enough time to move on to the rest of your guests.
My #1 Evening Tip
The earlier you get your evening guests in, the more atmosphere filled it will become. Invite them at 19:30/20:00 and they many only have one and head home but invite them at 18:30/19:00 and they may book a room or a taxi.
The Evening
By the time the evening comes you'll be so embedded in the atmosphere you'll just be having the most incredible time. You don't really need anything like a photo booth or other activities for your guests to do. You're enough and should you pick some grand entertainment then you'll have everyone up and dancing in no time.
Dance Floor
When it comes to the first dance there is nothing better than having your song played live. Whether this is be by a friend who does you a favour or a live band it will really bring the night alive and kick off the evening with a bang.
A good band is worth its weight in gold and can get even the most stubborn of guests up on their feet. I purposely suggested we pick the band for our wedding because they managed to have a man with one leg up and dancing.
If the dance floor gets going you'll very often find me in the middle of it having an absolute rave.
Tip: Your guests are more likely to be on the dance floor if you are so don't plan your bands setlist with a time where you'd like to talk to guests as you won't get to see them.
Informal Portraits
In the evening I'll do the rounds capturing informal portraits of you and your friends. I love doing this as it means every one of your guests has a great photograph of them to take home.
This is the perfect time to have a photograph of you and those folks from work or those lads or lass' from the rugby club.
Don't forget all your guests will get access to the photographs in the end so urge them to leave their cameras at home or in their bags and have me do the hard work.
Visual Effects
"Do we need them?"
I get so many people approach me who're looking at having some sort of additional visual effect for their big day. Whether it be Smoke Bombs, Sparklers or Fireworks there's a certain allure which these bring and make them most sought after.
They make great photographs yes of course but do you need them? No. Just like you don't need to do confetti or get married in a church or have speeches. It's your day and it's important you follow your gut and not the trend cycle as these photographs have a small lifespan to them.
Any visual effect especially those of the pyro-technic variety carry a risk with them.
Smoke Bombs
A Word of Warning
Being one of the newer trends on the wedding scene it's quickly become the most asked for addition of visual effects to my days.
First off; smoke bombs can stain clothing. So you know those beautifully white wedding dresses and dress shirts? Well they can become a shade of pink, blue, yellow or green. This can even happen with the most carful of attitudes towards them so just beware.
Purchasing and Using Your Smoke Grenades
Next you'll need to source these items yourself. The most reputable seller and best product is Enola Gaye's WP40 range. This is not the time to go cheap and save money, we're dealing with fireworks after all. If you do purchase none recommended products then I may not wish to use them on the day as I'll be putting myself at risk.
You'll need 2 of each colour at least as some may not work due to their temperamental behaviour. If you purchase at least 2 then at worse we'll get to create a couple of photographs with them and at best we'll get two attempts and be able to select different backdrops.
Despite the many photographs you may see, holding smoke bombs is strongly advised against. These items are classified as fireworks and should be treated with the same respect. I have engineered two light stands to hold your smoke bombs and I will set them off so you don't have to be near to them.
Sparklers
Sparkly Tunnels of Fun
A little older than smoke bombs but still a new spectacle for those who're not attending many weddings. Sparklers create a great confetti tunnel like atmosphere in the dark.
I love to capture these photographs but once again it's important you're aware of the dangers to yourself and your clothes following the sparks flying off of them. It's not uncommon to see little burn holes in a brides delicate dress following one of these moments.
As with confetti and smoke bombs I'll do the fine tune arranging most likely with your events team at the venue when it comes time to lighting them.
Which sparklers should we buy?
Sparklers, unlike smoke bombs are pretty readily available all year round. Be sure to pick up the extra long lasting versions though as managing to light everyones sparkler and perform a little run through can take a little longer than you may expect. Picking up a couple of lighters also wouldn't go a miss.
In terms of quantity it's really up to you. I've done lines of over a hundred and smaller more intimate versions. 70-100 sparklers is usually a sweet spot leaving enough left over for a retake if problems occur.
Fireworks
The older bird in this game but still able to put on a spectacular show. Now I've never been to a wedding where guests set off fireworks but incase you were thinking about it, please don't. It's a sure fire way for someone to get hurt.
There are loads of reputable firms who will put you a spectacular show on and take all of the fuss away for you.
Should you really be considering fireworks then I suggest you contemplate the viewing area of where you and your guests will stand. This can be a great time for photographs and it can really look awesome if you have a great landscape as well as the night sky lit up.
Videography
To Video, Or Not To Video
Just behind confetti, "should we have our day videoed?" is my second most asked question. Having not actually been married myself yet I can honestly say I have no definitive idea. In my mind, though it would make sense to explore the option as it will only aid your memories of the day.
This being said it's important to bring someone on board who, like me, is a seasoned professional and knows what they're doing. A budget option may seem an attractive feature for you especially after having spent all of this money but it could actually hinder my ability to create my usual high level of work.
I can recount several horror stories of weddings I've been at where the videographer actually has no clue and is just getting in the way. Saying this though I can also count many more where the videographers were awesome and knew exactly what they were doing. For these reasons, it's important for you to take this decision as important as your photography decision.
People I Love To Work With
The better the fit the videographer to the photographer the greater the work I can produce. Often if myself and the videographer are on the same track I'll give them the reins and sit back and capture something completely different from them being in control for a moment.
Below is a list of videographers of varying price range who I get on with really well. We've worked together on many a wedding so be sure to reach out to any of them and mention my name.
It's important you understand I'm recommending these people on their workability factor and not their final product. The final product should be something you connect with personally and my opinion there should be irrelevant.
Videographers I'd recommend
The better the fit the videographer to the photographer the greater the work I can produce.