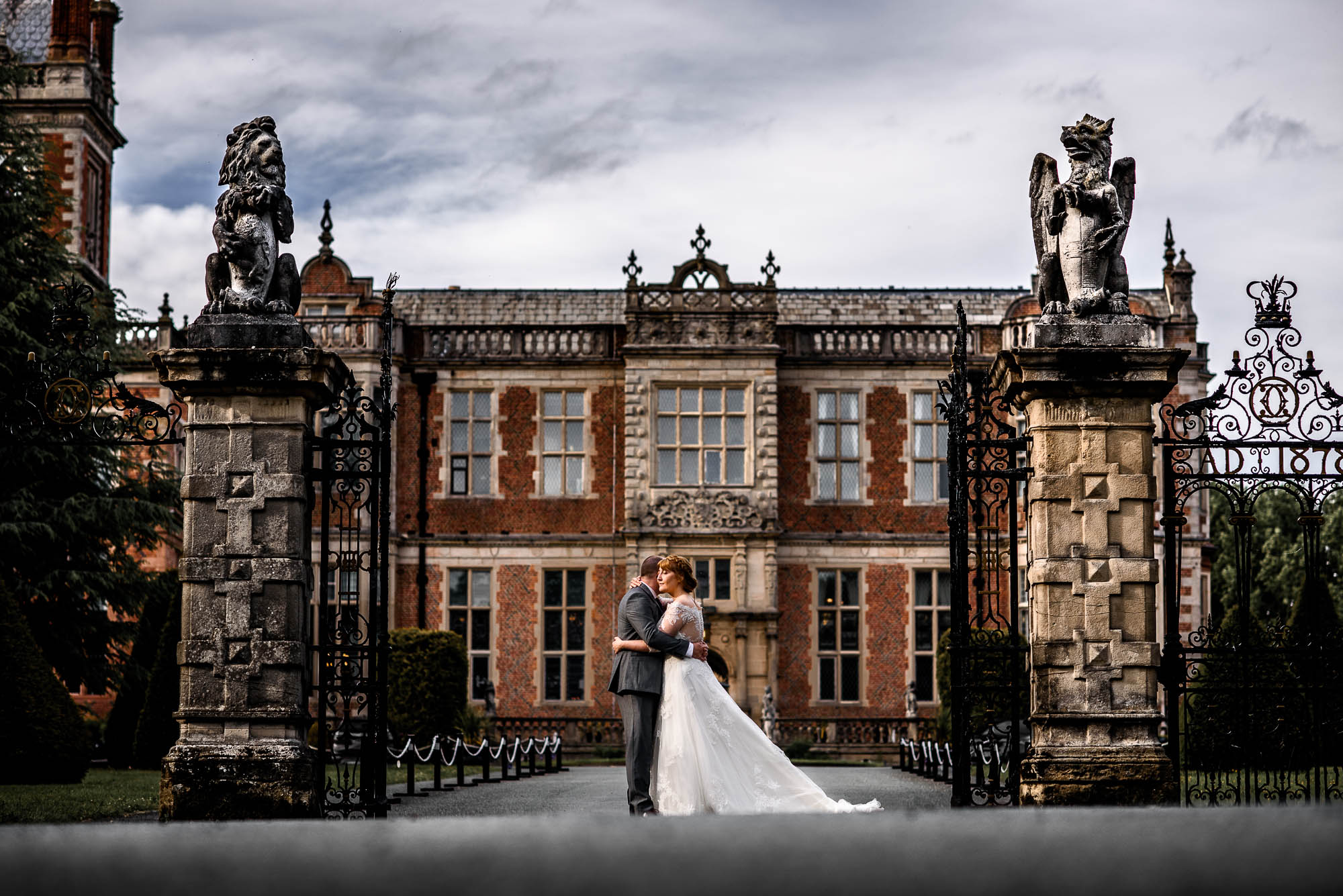 Crewe Hall Wedding Photography
Just a stones throw away from my home in Stoke-on-Trent Crewe Hall has always been one of those wedding venues which I really wanted to shoot at.
It's hard not to feel engulfed by it's aura and feel a sense of accomplishment when you eventually get invited along to share in someone's special day here. A wedding anywhere is a special occasion and this isn't saying anything anywhere else is any better or worse. It's simply saying that it's hard not to feel the importance of over 700 years of local history as you climb the enormous grand staircase or sit dining for the wedding breakfast in the Long Gallery.
A Favourite Photographer at Crewe Hall
With living just 20 minutes down the road from Crewe Hall in Stoke-on-Trent I'm a favourite when couples are searching for a wedding photographer for their big day. I love photographing weddings amongst such incredible local history and I get more than my fill at Crewe Hall.
My style of wedding photography is built on a great relationship with my couples. All of my weddings are different and unique; even those at the same venue like Crewe Hall. Time on your wedding day is really important to me. So if I can help it I don't really want you to miss a thing on your wedding day and would love you to remember as much as possible. This caring and relaxed approach to my wedding photography is the reason why so many couples recommend me. They always say it feels like a friend is taking their photographs and not a photographer.
A Crewe Hall Wedding Day Slideshow
Having your wedding at Crewe Hall Hotel?
I love being an Crewe Hall wedding photographer and would love to return. Why not give me a shout?
SHOUT!
Another Crewe Hall Wedding Day Slideshow
A Historic Gem Cheshire Wedding Venue
Turning off of Weston Road in Crewe you make your way down the long straight driveway to QHotels Crewe Hall. A remarkable hotel and wedding venue full of romance and elegance.
This 17th century Cheshire mansion has been a strong prominent player on the Cheshire wedding scene for some time now. With it's luxurious accommodation and traditional atmosphere it's the perfect backdrop for a fairytale wedding.
Dating back to 1170 Crewe Hall is a staple of Cheshire history and thus boasts a Grade I listing. Once hosting royalty this now hotel carries across many of it's opulent furnishings and fine decor which has seen it be the height of class for many hundred's of years.
A historic gem set amongst 8 acres of beautiful Cheshire countryside perfect for an indulgent break and any big bold wedding. It's oak panelled rooms filled with oil paintings echo a time gone by which makes you feel like you're in your own episode of Downton Abbey.
In the more immediate years the hotel has become a hotel of contrast as a more modern wing has been purpose built to host many more bedrooms and a spa and health facility.
Staying at Crewe Hall nestled among the most beautiful grounds you can either stay on site or choose to explore the nearby attractions which include Crewe town, Alton Towers and the Trentham Estate.
A World of Glamour on your Wedding Day
A wedding at Crewe Hall in Cheshire is one pulled straight from the history books as you say "I Do" amongst over 800 years of local and national history.
For those looking for a traditional wedding venue you can't go far wrong with Crewe Hall. These country mansions were once the height of popularity for couples looking for classy wedding venues to tie the knot. With the shift in popularity leaning more towards that of barn weddings you see less weddings in venues like these but I find that even more special as those who do choose to get married here really do have a special day.
You and your wedding party are able to stay over the night before in one of 117 bedrooms or arrive on the morning of your wedding to get ready in one of Crewe Hall's dedicated bridal prep rooms.
Dependant on your wedding size Crewe Hall no doubt have a room which can accommodate your party. Various state rooms including the Long Gallery, Library or Drawing Room (Great Chamber) offer different sized and differently lit event spaces for your service, your wedding breakfast and your evening reception.
In the summer months you're able to take advantage of 8 acrse of beautiful landscaped gardens or spend time sipping your champagne and eating canapés on the front or rear terrace.
The vastness of the interior of this Cheshire country mansion really does help when planning a wedding out of season. For example during the winter months you can take advantage of the huge atrium to chat with your wedding guests surrounded by candle light further adding to the romantic atmosphere which oozes from Crewe Hall already.
Whether you're having a wedding of 40 guests of 240. Crewe Hall can make your fairytale wedding a reality.
Contemporary Photography at Crewe Hall
Photographing amongst such vibrant history can often bring an overwhelming look to your photographs. Dark oak panelled rooms may not fit my colourful vibe but this period property offers more gifts than problems. The ornate features just bring constant opportunity giving suitable surfaces for reflections, great light through stained glass and stunning backdrops throughout.
When I come to capturing couple portraits for my brides and grooms at Crewe Hall I never feel as though I'm set to create the same stuff I did before. With 8 acres of land ready to explore and piles of interesting space indoors there's never a lack of creativity for me to work with.
With large outdoor terraces and stepped sections I can create stunning family portraiture for the whole wedding or just close families whilst not disrupting the celebrations of the rest of the guests.
With it's grandness Crewe Hall lends itself to being capturing in a wide angled fashion to fit as much of it's beauty into one photograph as possible. I love to take photographs like this and I love returning to Crewe Hall time and time again.
Crewe Hall Wedding Photography