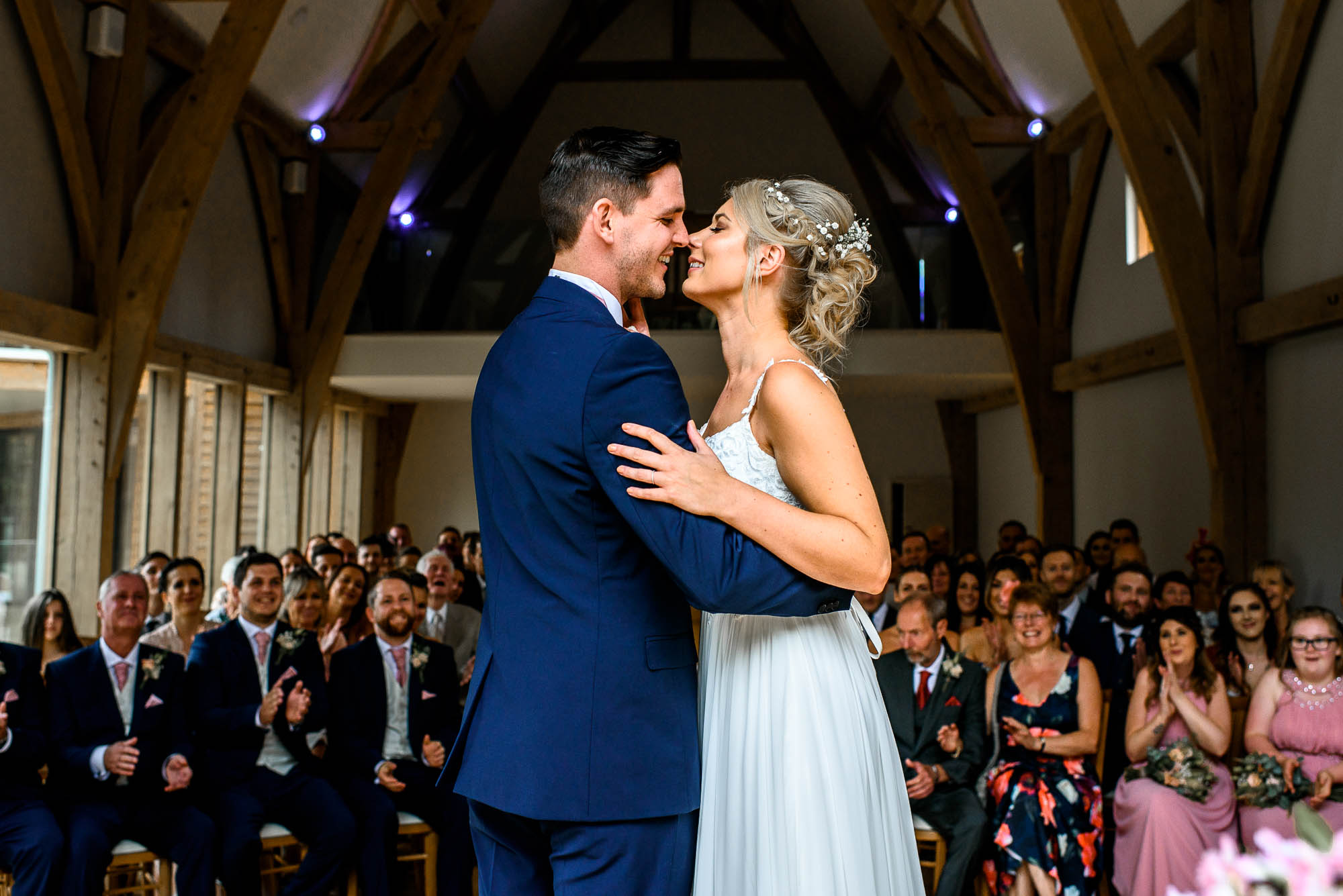 Mill Barns Wedding Photography
Just like most people in the wedding industry I started hearing murmurings of The Mill Barns around 2017 when it was opened to the public. Straight from the off I was enamoured with the massive architectural feet which this wedding venue had pulled off. It was no surprise when I then realised how busy it had become and I soon booked my first wedding there. Since then I've loved to return every year to photograph in this truly one of a kind sttructure.
With a keen love of design and architecture and all things symmetrical and regimented Mill Barns is a feast for my eyes and I just smile when I'm amongst it. I don't think I'll ever get bored of photographing weddings in this Sensational Wedding Barn.
Multiple Weddings at Mill Barns
Living just under an hour from Mill Barns I'm a favourite when couples are searching for a wedding photographer. These modern wedding barn weddings are always epic to shoot and the expert team at Mill Barns know just how to deliver a wedding which is relaxing, stress-free and doesn't miss a beat.
My style of wedding photography is built on a great relationship with my couples. All of my weddings are different and unique; even those at the same venue as Mill Barns. The time on your wedding day is really important to me. So if I can help it I don't really want you to miss a thing on your wedding day and would love you to remember as much as possible. This caring and relaxed approach to my wedding photography is the reason why so many couples recommend me. They always say it feels like a friend is taking their photographs and not a photographer.
Mill Barns Wedding Slideshow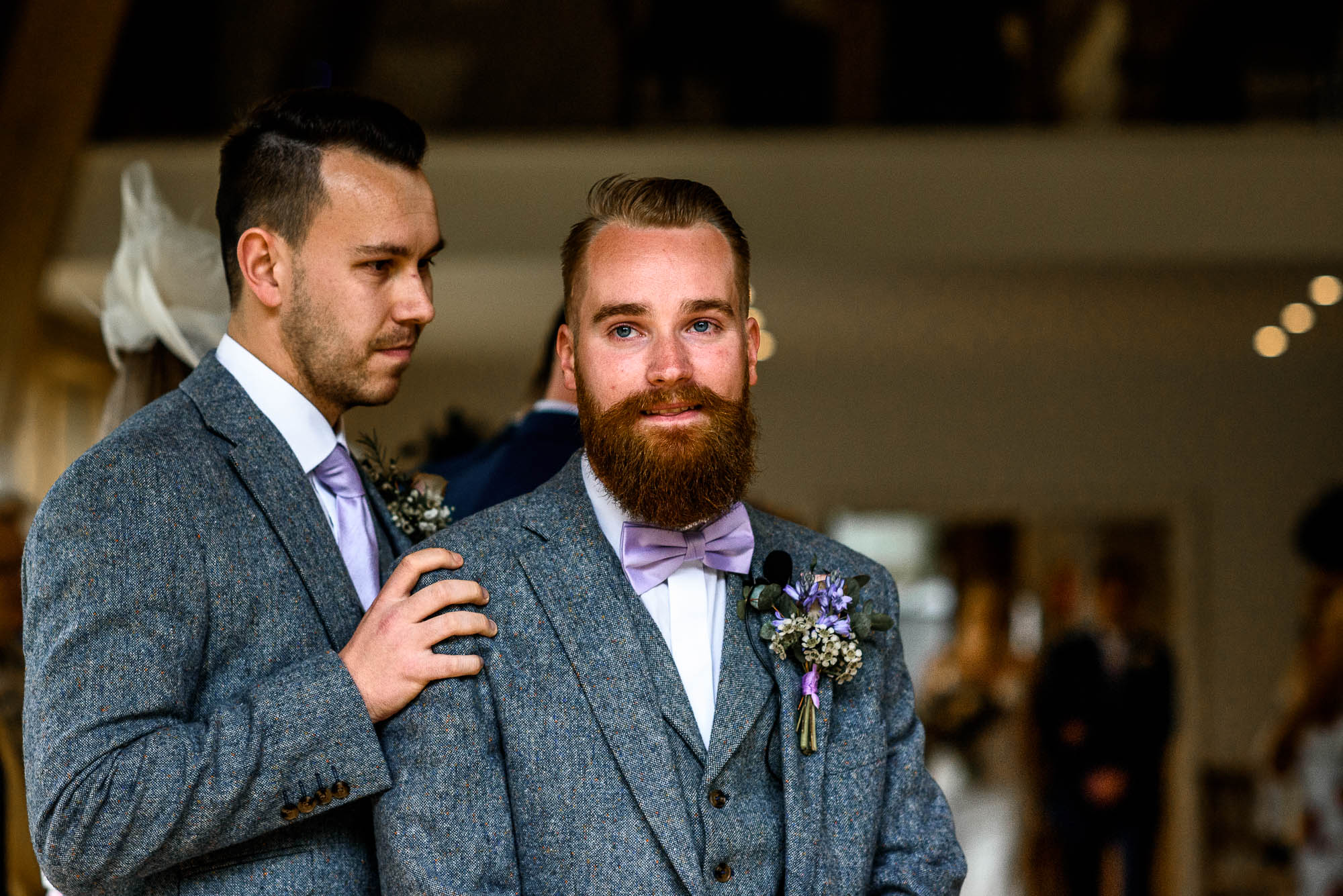 A Mill Barns Couple's Kind Words
"We loved how well Adam got on with everyone and how well everyone got on with him."
Planning your special day at Mill Barns?
I absolutely LOVE photographing weddings at Mill Barns and would love to return. So why not give me a shout?
SHOUT!
Other Ensarb Wedding Venues
In Staffordshire and Shropshire
From Ashes to Oak
In 2015 the derelict Mill Hotel was purchased at auction by Ensarb and the hard work started from this point to make a dream a reality for Ben and Sarah Reeves. Already owners of 2 other incredible Staffordshire wedding venues they were looking to add something new to their portfolio.
Featuring as one of the only purpose built wedding venues in the UK Mill Barns boasts some of the most stunningly beautiful architecture you'll lay your eyes on. The architects and build team finished the £3 million renovation and Mill Barns officially opened it's doors to the public in 2017.
As you approach Mill Barns off of a quiet country lane from the nearby A442 you're never quite ready for the experience you're about to embark upon. Sitting below a modest tree line you wouldn't know it was there from the road but with it being upon you you fail to see how you couldn't have seen it as it's one hell of a behemoth wedding venue. Sat between Bridgnorth and Kidderminster this conveniently located wedding venue is easy to get to from Birmingham, Staffordshire and Mid-Wales.
Comprising of three sensational rustic oak framed barns and sitting almost atop of surrounding purpose built water feature filled by the close by river Severn the magic of the venue comes alive quite easily for any couple looking for a barn to get married in. With such a cathedral like grandeur this wedding venue only needs modest personal touches to bring your personality to the day.
Upon arrival you'll make your way from the car park across an elegant footbridge to the Mill Stone Barn which is the centralised barn which leads on to The Terrace, The Mill Wheel Barn and The Mill Pond Barn. You'll also be able to descend into the depths to access the onsite accommodation, the Guest Lounge and the the Granary Breakfast Room.
The sensational Wedding Night Suite is included with the cost of the venue and then there are Mill Brook Rooms, Meadow Rooms and Accessible Rooms to suit all of your guests needs.
A Day at this Beautiful Wedding Barn
Your wedding at The Mill Barns starts for you on your arrival at 10:30 where you can get ready in the dedicated Dressing Room whilst enjoying a glass of bubbly with your bridesmaids or groomsmen.
Guests are then allowed to start arriving from 11:00 onwards and can congregate in the Mill Stone Barn whilst they wait for your ceremony to begin. Due to it's grandeur Mill Barns is able to host up to 170 of your nearest and dearest in the Ceremony Room (the Mill Wheel Barn) or outside on The Terrace overlooking Mill Pond for a outdoor ceremony.
Shropshire county council will perform your legal marriage ceremony with either the cathedral like backdrop of the Mill Wheel Barn or the mature tree line which graces the back of the Mill Barns property.
Following the service you and your guests are welcomed to enjoy the rest of the outdoor terrace space taking in the luscious greenery whilst sipping on your reception drinks. As on par with the rest of the Ensarb wedding venues Mill Barns boasts a no corkage charge so whether it's ales or gin you can supplier your own drinks for all your guests to enjoy.
Following on from your reception drinks you're welcomed into the long Mill Pond Barn for the wedding breakfast. With an adaptable space this room can fit anywhere from 25-170 of your wedding guests. The Mill Bar can then continue to serve your no corkage supplied drinks during your wedding breakfast also.
After the speeches have been done and the toasts have been drank your guests can filter back out on to The Terrace stay where they are or greet and mingle with incoming evening guests in the Mill Stone Barn. Due to it's space your evening entertainment can setup without disrupting your relaxation.
Then once the evening erupts you can dance the night away or take advantage of The Timber House which is a new outdoor space for 2020 which is super adaptable to hosting any number of ideas you may have.

As the curfew hits at midnight you and 50 of your guests will be able to relax in true luxury in the onsite accommodation. The next day will come and you and your closest friends and family can enjoy breakfast in The Granary before having to say goodbye to Mill Barns for good.
Wedding Photography Made Easy at Mill Barns
I love being a photographer at Mill Barns. The whole place's grandeur really lends itself to the wide angled photographs I love to capture. To add to this the place is littered with beaming natural light through it's huge windows over looking the Mill Pond meaning I barely ever have to use artificial light which intern helps me remain unobtrusive.
The industrial chic charm of the building mixed with the rustic fairytale vibe provides stunning backdrops for wedding portraits which really bring a look of originality to your wedding day photographs. Exploring the 8 acres of landscaped gardens is one of my favourite things to do with my couples as the sun sets later on. I'm spoilt for choice with festoon lights, a stone pagoda and small wooden bridge to stop at on our way around the grounds.
Photographing a wedding service has never been so easy and as you stand elevated from your guests the natural light from the floor to ceiling windows at the end of the Ceremony Barn will make you look even more incredible on your big day.
Just like this being your dream wedding venue it's also a dream to be a Mill Barns wedding photographer as the ease of the day and the stunningly sensational architecture mean I can focus on what's really important. The moments and emotion happening all around.
Mill Barns Wedding Photography
Other Weddings Near Mill Barns
Based in and around the Shropshire