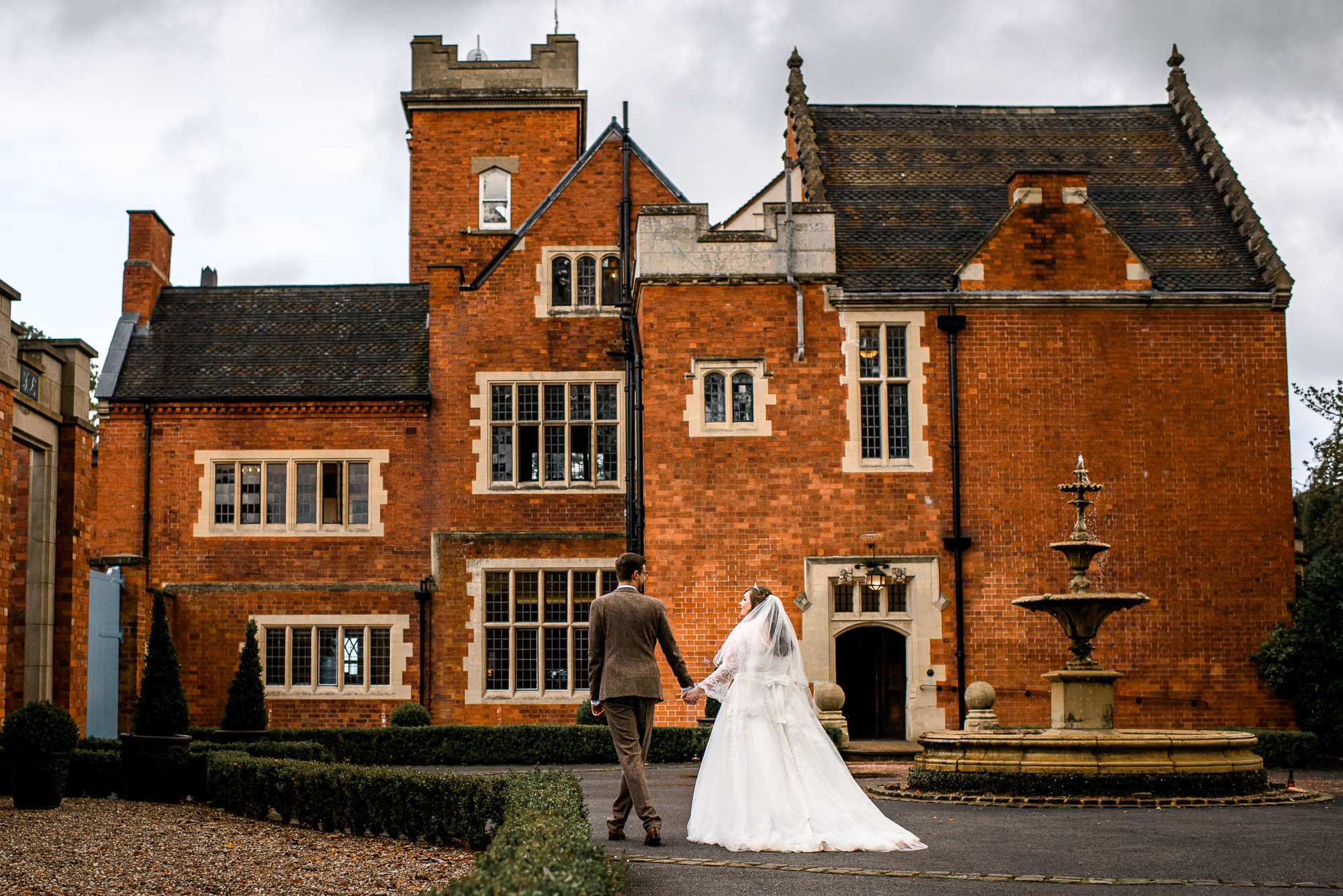 Pendrell Hall Wedding Photography
Living in Stoke-on-Trent I'd always known of The Ashes Barns but I didn't know of Pendrell Hall till only a few years ago when I got asked to photograph my first wedding there. You may find that connection of two wedding venues strange but I can assure you it's not. You see Pendrell Hall, The Ashes Barns and also Mill Barns in Alveley are all owned by the same team which is Ensarb.
Photographing a wedding at any of the Ensarb venues is a super stress free experience which allows my creativity to flow in it's fullest. Every time I return to Pendrell Hall myself and events team always have a really great time and so do our couples too. It really is a great working relationship for me and my wedding photography.
Multiple Weddings at Pendrell Hall
Living just under an hour from Pendrell Hall I'm a favourite when couples are searching for a wedding photographer. These country house weddings are always fun and the expert team at Pendrell Hall know just how to run a relaxed wedding which doesn't miss a beat.
My style of wedding photography is built on a great relationship with my couples. All of my weddings are different and unique; even those at the same venue like Pendrell Hall. The time on your wedding day is really important to me. So if I can help it I don't really want you to miss a thing on your wedding day and would love you to remember as much as possible.  This caring and relaxed approach to my wedding photography is the reason why so many couples recommend me. They always say it feels like a friend is taking their photographs and not a photographer.
Planning your special day at Pendrell Hall?
I love being an Pendrell Hall photographer and would love to return. Why not give me a shout?
SHOUT!
Other Ensarb Wedding Venues
in Staffordshire and Shropshire
Another Pendrell Hall Wedding Slideshow
Country House Wedding Venue – Pendrell Hall
Heading through Codsall Wood the trees will clear only for a moment as a very unassuming entrance with a gatehouse appears almost out of no where. Turning into the winding festoon lit driveway you'll find yourself at a very large opulent fountain in the middle of the road which marks your arrival at Pendrell Hall Estate. Conveniently located on the borders of several counties and with amazing transport links makes Pendrell Hall a venue of choice for anyone looking to get married in the UK.
Purchased in 2012 by Sarah & Ben Reeeves this Country House wedding venue was the second portfolio piece for a now large 4 wedding venue portfolio for Ensarb. It was then restored lovingly to evoke it's Victorian past whilst also providing a stunning blank canvas to any wedding day. Once all restoration work had finished Pendrell Hall opened it's doors and hosted it's first wedding in 2013. Since then this beautifully maintained wedding venue has hosted hundreds of weddings and in true Ensarb fashion delivered every one to their superb high standard. Its then of no surprise that the events team were commended at the West Midlands Wedding Industry Awards for their hard work in 2015.
This stunning country house is a wedding venue for all seasons and all guest lists. With 3 ceremony space options allowing guest numbers to go up to a massive 170. Two of the ceremony spaces preside indoors in The Morning Room and The Ballroom whilst the other gives couples due to get married in May to August the opportunity to be married outdoors in the spellbinding Staffordshire parkland whilst saying "I do" under the traditional English Garden Band Stand.
A no corkage fee which is synonymous with Ensarb venues carries over to Pendrell Hall allowing couples to bring in their own alcoholic beverages for the Drinks Reception and the Wedding Breakfast.
Couple the drinks offering with Jenkinsons Catering mouth watering three course Wedding Breakfast offering starting from just £39.50 per person and you can ensure you can indulge all your guests for less at this stunning country house.
A formal lawn surrounds the rear terrace of Pendrell Hall with expansive views across Staffordshire countryside giving you an incredible backdrop for your wedding photographs. Whilst enjoying your formal photographs you can also set up lawn games to keep all of your guests entertained and having fun. Giant Jenga, Coconut Shys and a game or two of Crouquet are a familiar sign during Drinks Receptions and the perfect activity to keep children and adults occupied.
Exclusive West Midlands Wedding Venue
On the morning of your wedding Pendrell Hall welcomes all couples and their entourage of bridesmaids, groomsmen or parents from 10:30 to enjoy one of their two "getting ready" spaces. The Love is Enough Dressing Room boasts a salon styled mirror and vanity table with a large expansive window to flood the room with natural light. Whilst people are having their make up done others can sit on the stunningly timeless Chesterfield sofa and relax before all the fun of the big day starts. The room can also be doubled up as a private space to spend with parents before making your way down the arts and crafts oak staircase to your wedding.
An alternate newly offered Grooms Room or Pimpernel Suite is available for the other member of the bridal party to get ready in on the morning which provides privacy away from The Dressing Room and your own space to relax.
The Morning Room hosts the smaller wedding ceremonies and has beautiful bay windows overlooking the landscaped gardens. This room can also be on standby should the weather present a problem with having your marriage outdoors.
The Drawing Rooms are gorgeous transition spaces to allow your guests space to relax and have a drink indoors whilst the final touches are brought to your wedding breakfast. Also later on they can be a great space away from the dance floor in The Ballroom or they can host portable casinos or photo booths for your guests to enjoy.
The Ballroom is the biggest space at Pendrell Hall and it can be used for your ceremony and/or your wedding breakfast. The beautiful large almost floor to ceiling sash windows let loads of natural light flood into your Wedding Breakfast so everyone can see your speeches unfold perfectly.
One of the best features of Pendrell Hall is it's exclusivity. The only people you will see on your wedding day are those you've invited and the very attentive Pendrell wedding events team who will be on hand to lead your day in the right direction at every turn.
In the evening after all is said and done you can retire to your Wedding Night Suite which is included when you book at Pendrell Hall. Your guests then also have the option of accommodation at Pendrell.  Apart from your suite there is another 2 grand bedroom suites for others to stay in the main house. Separate from the main house you also have 20 guest bedrooms in the Orchard Stables, a cute and quirky shepherds hut which was added in 2019 and 2 self catering cottages onsite for bigger parties or families who wish to stay together.
Photographing a Wedding at Pendrell Hall
Unlike many other Victorian country house wedding venues Pendrell boasts a stunning renovation which brings neutral colours and stylish modern furnishings to your wedding day. With other similiar wedding venues of the same historic importance you may find large over bearing decor which swallows up any chance of you leaving your mark on the wedding day. With Pendrell Hall you don't have to worry about this as although they have stunning traditional arts and crafts woodwork most of the interior is bright and airy meaning it's an absolute joy to capture well lit happy wedding photographs.
Every room within Pendrell has large windows which pour natural light into the rooms meaning the use of flash photography can be at an absolute minimum which will allow your guests to relax even more as I would be able to operate in the background more. This natural light really helps me to capture beautifully natural candids and portraits of your guests enjoying the special day.
Once the wedding ceremony has finish there are an abundance of immediate backdrops for your traditional family formal portraits inside and out. Then when it comes to capture my brides and grooms I'm able to wander a little further out within the glorious ground of this six acre estate with never ending space for capturing creative bride and/or groom portraits.
At night you're able to really enjoy the atmosphere of Pendrell Hall as this Victorian house comes alive with intuitive lighting and festoon bulbs lining pathways all around. This gives you chance to enjoy outdoor photos once the sun has set and things are a little more relaxed.
I love being a wedding photographer at Pendrell Hall and every-time I return I'm able to create something entirely new and original whether the sun is shining or not.
Pendrell Hall Wedding Photographer
Other Venues Near Pendrell Hall
Based in and around the West Midlands