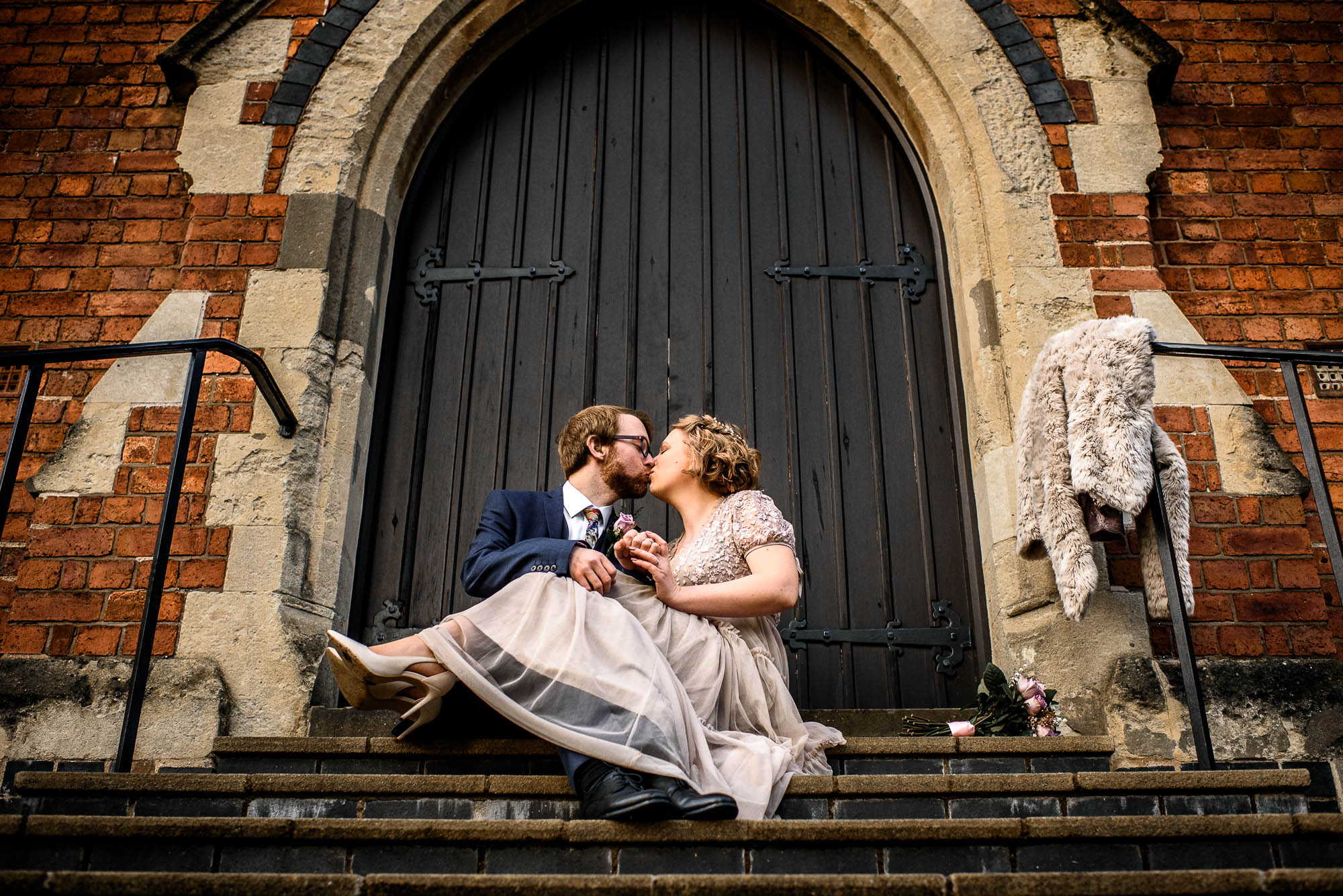 View the Thomas Robinson Building Wedding Gallery
Know the couple? See the full gallery here.
Full Gallery
Thomas Robinson Building Wedding Photography
Anna & Sam got in touch in mid 2019 to see if I'd be available to cover their late November wedding at The Thomas Robinson Building in Stourbridge. Immediately I wanted this wedding! I've loved this venue for a long time and having already met Anna at a friends wedding the previous year I was keen to shoot a similiar wedding oozing alternative taste.
Their ideas for their day were around simplicity and not a lot of theatrics. They wanted to celebrate their love with their immediate friends and family in the most informal way possible whilst still actually legally getting married. Following the wedding they'd share a meal at a favourite restaurant with all those family and friends who could make the day.
Even though their vision of the day was small in comparison to the norm of weddings they still wanted a big focus on photography which is why they sort it important to get a professional involved even if it was only going to be for 1.5 hours. I love difference in weddings and was psyched to photograph their special day from the off set.
My First Time at a Thomas Robinson Wedding
Living just under an hour away from The Thomas Robinson Building means this was my first time photographing at this beautiful Stourbridge registry office wedding venue. I love intimate weddings with a quirky edge as it's so incredible to be a part of such a small wedding day. I often venture further a field to photograph weddings and I don't charge for the pleasure. I find it incredibly exciting actually and really relish the opportunity to shoot within new space and a new wedding adventure.
My style of wedding photography is built on a great relationship with my couples. All of my weddings are different and unique; even if I was to shoot again at the same venue like The Thomas Robinson Building. Time on your wedding day is really important to me as I'm sure it is to you too? So if I can help it I don't really want you to miss a thing and would love you to remember as much as possible. This caring and relaxed approach to my wedding photography is the reason why so many couples recommend me. They always say it feels like a friend is taking their photographs and not a photographer.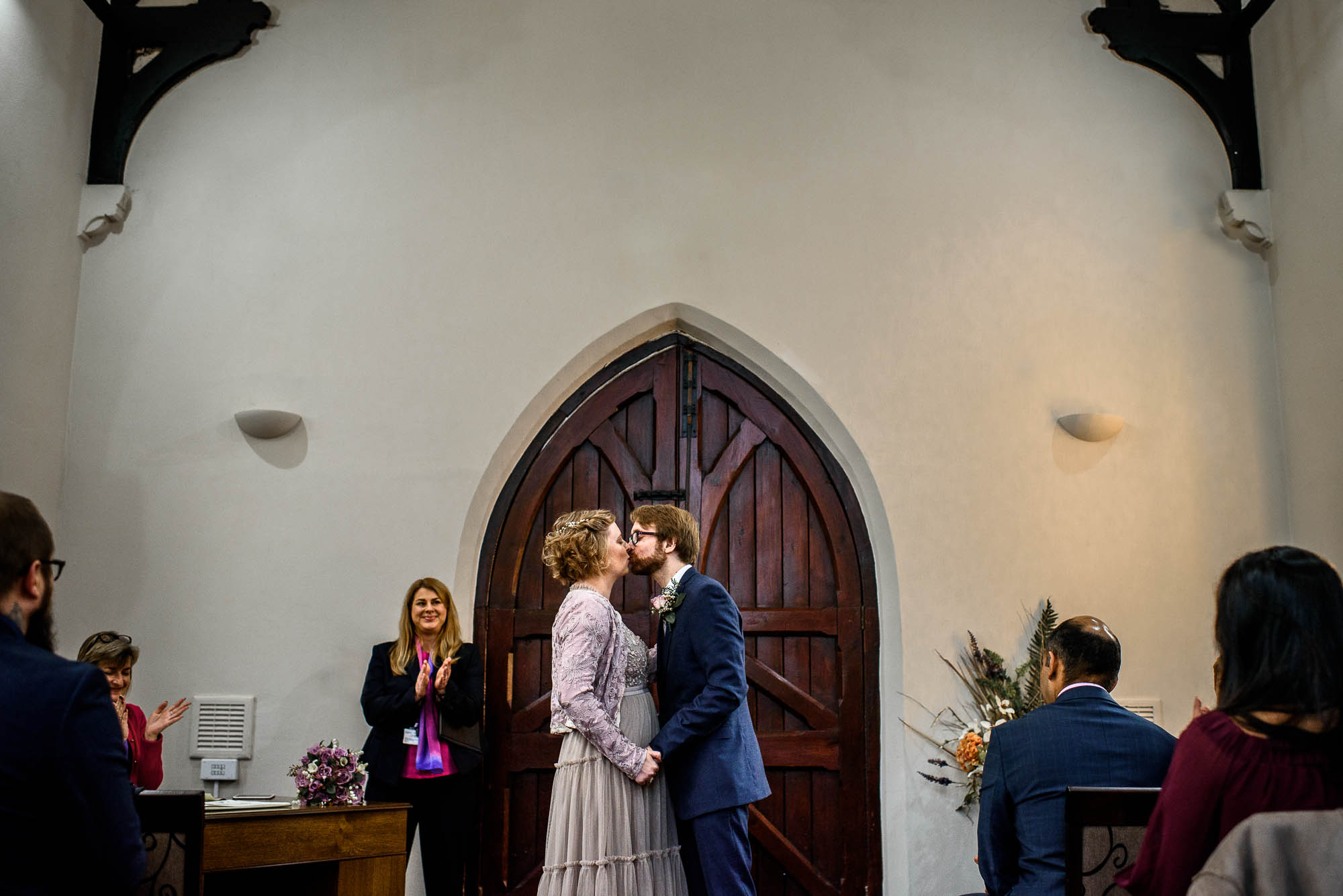 Planning your special day at the Thomas Robinson Building?
I love being photographing a Thomas Robinson Building wedding and would love to return. Why not give me a shout?
SHOUT!
A Repurposed Gothic-Stylised Marvel
Making your way up Cemetery Road you'll happen upon a beautiful tree lined drive leading to the breathtaking Thomas Robinson Building owned by West Midlands Historic Building Trust.
This simple registration office is becoming a magnet for stylish couples who're looking to tie the knot simply with little fuss. As apposed to the usual dark and dinghy registration office vibe The Thomas Robinson Building is a clean bright and modern restorative gem.
Built in 1879, this Grade II listed building has spent most of it's life as Lye and Wollescote Cemetery Chapel until it was renovated in 2019 to become the home of Dudley Registration Service. With help from Heritage Lottery Funding this traditionally gothic-styled chapel had a £1.2 million makeover to highlight the many period features it boasts whilst also bringing the interior decor into the present day with a bright and airy feel. Following the restoration the building was then named after the original architect, Thomas Robinson. The renovation won national acclaim when it was visited by the Duke of Gloucester who awarded the venue with a conservation award plaque.
This ornate marvel of engineering is perfect for those wanting the grandeur of a church without any religious elements. The Woolescote suite where couples now tie the knot was a chapel originally used by non-conformists and the west end which is no occupied by the Registration Service used to be used by people of the Anglican denomination.
A Small Intimate West Midlands Wedding Venue
This most sort after civil ceremony venue only operates weddings Friday to Sunday along with some bank holidays. With fees starting from £300 it can be the perfect solution to finding a low cost wedding venue in the West Midlands.
Although appearing rather large from the outside the The Woolescote Suite ceremony room can only hold 58 of your nearest and dearest on your wedding day which keeps that beautiful intimate feeling which small weddings have.
It fit Anna & Sam's idea of a perfect wedding day down to a tee. They were able to don their traditional wedding dress and suit celebrating their love for each other without a financial burden at the end of the day.
Just like with usual civil ceremony they were able to include 2 readings from either the registrars or guests to break up the legalities a little and bring some personality to their day.
Following the service Anna & Sam left The Woolescote Suite walking straight ahead out of the huge arched doorway leading them out into the Winter setting sun. This is an untraditional exit as it's the registrars way of clearing the room should their be another couple waiting to say their "I do's" in the foyer outside of the Woolescote Suite.
As we walked out into the winter sun we quickly changed tact and had their wedding guests form a confetti tunnel for them to walk through. This was quickly followed by a small set of formal family portraits for the small families who attended the day. With some friends portraits following everyone then made their way out of the Thomas Robinson car park to the restaurant of choice for the after party celebrations.
Before Anna & Sam left though we had a quick wander around the grounds including the cemetery to capture some couples portraits.
Photography Constraints at the Thomas Robinson Building
I love a challenge when it comes to wedding photography and this wedding was definitely that. Not only was my time constrained to just an hour and a half which significantly different to that of a usual 9 hour wedding day but the immediate area I could take photographs in was limited.
The interior of The Thomas Robinson Building is beautifully ornate and oozing history but it's incredibly small to get anything but a little bit creative in. The immediate outdoor area has a lovely tree lined driveway with the backing of the gothic-styled building but should there be another wedding or two on on the same day then we'd have been moved on pretty quickly I'd imagine.
Being a great wedding photographer is about being able to create something special with the most tight set of circumstances so photographing at the Thomas Robinson Building really allowed me to stretch my creative muscles and that I did.
I was restricted to only shooting at the back of The Woolescote Suite so did so in as many creative ways as I could think of. Shooting through the guests to give a perspective of their view whilst also aligning symmetry within my frame for their first kiss. Cropping and framing many other photographs in creative ways gave the whole collection more of an artistic feel rather than that of a simple point and shoot document of their day.
Following the ceremony we were lucky enough to be able to use the front of the building but following the guests leaving we headed into the cemetery to take some portraits. Being entirely respectful at all times we capture several hard light portraits in the setting November sun from loads of different angles to not actually let on that we were indeed in a cemetery. As I said to Anna & Sam, "I bet you never thought you'd have some of your best wedding portraits in a cemetery did you?" It certainly was a surprise for them but I delivered some very edgy portraits with an almost vintage feel with their wedding attire and the setting sun.
Being a wedding photographer who makes the best use out of every situation I thoroughly enjoyed photographing this Thomas Robinson Building wedding and would love to return.
Thomas Robinson Building Wedding Photography
Other Venues Near The Thomas Robinson Building
Based in and around Stourbridge